Germantown, Tennessee--July 23, 2021--Germantown Municipal School District is proud to announce that Karen Barbieri and Gina Whitsell have recently been named K-8 Instructional Coaches. What is an Instructional Coach you may be wondering? "Just like a soccer team has a coach that goes over skills and strategies to formulate winning plays, coaches have that relationship with teachers," said Instructional Supervisor Jenni Ledford. They provide professional development, shoulder partner with professional learning communities (PLCs), or work with teachers one-on-one to help them hone their craft. "They can also model instructional approaches and strategies aligned to their content areas," said Instructional Supervisor, Dianne Stovall. "We individualize instruction for our students and we want to offer that same level of personalized support for GMSD teachers," said Stovall.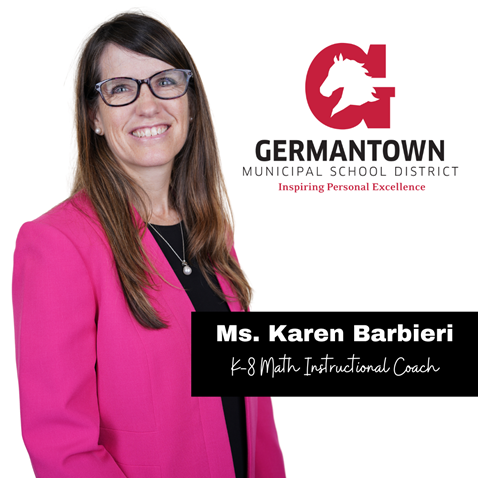 Karen Barbieri will join the Teaching, Learning, and Assessment Team as the K-8 Math Instructional Coach. "Ms. Barbieri brings an enthusiasm for learning and sharing that will make her a great fit to coach GMSD math teachers," said Ledford. She has occupied many leadership positions over her educational career that spans 26 years. Previously, Barbieri has served as the Title I Coordinator, a Blue Chip teacher mentor, a student teacher mentor, a member of the PLC Lead team, and the RTI2 Coach for Riverdale. "I cannot wait to support my fellow teachers in their journey in the math classroom," said Barbieri.
Gina Whitsell, also from Riverdale, has been named the K-8 ELA Instructional Coach. As a 24-year teaching veteran, she has provided leadership amongst teachers surrounding all things ELA. Whitsell is a familiar professional development leader in our district and has served as the reading interventionist and ELA content lead at Riverdale. She is also a professional presenter with Great Minds/Wit and Wisdom. She brings a unique lens and level of mastery towards supporting teachers. "I am so excited to see the partnerships formed between Ms. Whitsell and our ELA teachers. GMSD has made a perfect choice in selecting its ELA coach," said Stovall.