GMSD Weekly Roundup
The GMSD Connection: 

A state of the district in less than 3 minutes
With your Superintendent, Jason Manuel
Happy 100th Day of School
GMSD enjoyed spending time with our school-level Spelling Bee Winners and January's Employee that Empowers, Candace Plaisance, at the board meeting this week.  Additionally, the Germantown Board of Education approved revisions to 24 policies, spring semester schools fees, and ESSER plan updates.  You can view the agenda here.  The next Germantown Board of Education meeting will take place on February 16th.  
2022 Spelling Bee Winners:
Emmy Ryan, Forest Hill 
Daniel Rojas, Farmington 
Amelia Nevmatulin, Dogwood
The GMSD Transfer Window is Open
Monday also officially began GMSD's Open Enrollment Window.    To most of our Germantown families, open enrollment means that the "transfer" window is open.  For those wishing to apply for a transfer–the window will remain open until February 24th.  Any current GMSD students who do not live in Germantown and are in an EXIT GRADE must also reapply (non-resident students entering grades K, *6, and 9).  * Riverdale students' transfers are in place through grade 8.
Houston High Preview Night Follow-Up Facts
Thank you to the 8th grade families that came to learn more about Houston High School last night. 
We are also excited to announce that a new type of PREVIEW DAY will be coming for our GMSD students.  Our  current seventh graders can look forward to MUSTANG FOR A DAY, an immersive field trip that will allow them to tour the high school, experience some of the classes, and meet with teachers and students this Spring. 
The team at Houston High have put together some follow-up information from the open house event:
Top Ten Reasons to consider GOAL 
The Germantown Online Academy for Learning is also still accepting applicants.  For those that are seeking a virtual option–GOAL offers a personalized and fully flexible online learning experience that is supported by GMSD personnel. 
Check out GOAL's latest video that outlines the Top Ten Reasons to join the GOAL family.
FarmingTONES to perform at upcoming Grizzlies Game
The FarmingTONES are warming up for their big debut at the Grizzlies Game in February.  The Farmington students would love to see you at their performance of the national anthem at the FedEXForum as the Grizzlies take on the Trail Blazers.
Houston students take the Scholastic Art Competition by storm
At Houston High School, visual arts students earned 6 gold keys, 6 silver keys, and 5 honorable mentions.  Mary Margaret St. Clair and Adele Ferguson also earned the Best in Show and Portfolio Awards–which are the top two senior awards for the region.  The gold winning pieces are all on display at the Brooks Museum of Art through February 20th. 
Congratulations are in order to:
Mary Margaret St. Clair:  Senior Best in Show, Gold Key (Portfolio), 4 Gold Keys (Individual), 1 Silver Key, and 1 Honorable Mention
Adele Ferguson: Gold Key (Portfolio), Best Senior Portfolio Award
*Both St. Clair and Ferguson were also awarded scholarship monies for their top performance
Owen Canter: 4 Silver Keys and 4 Honorable Mentions
Susan Zhang: Silver Key (Portfolio)
Pictured Below: Mary Margaret St. Clair's winning piece and a painting from Adele Ferguson's winning portfolio.
Hands-on History with Mr. Bozeman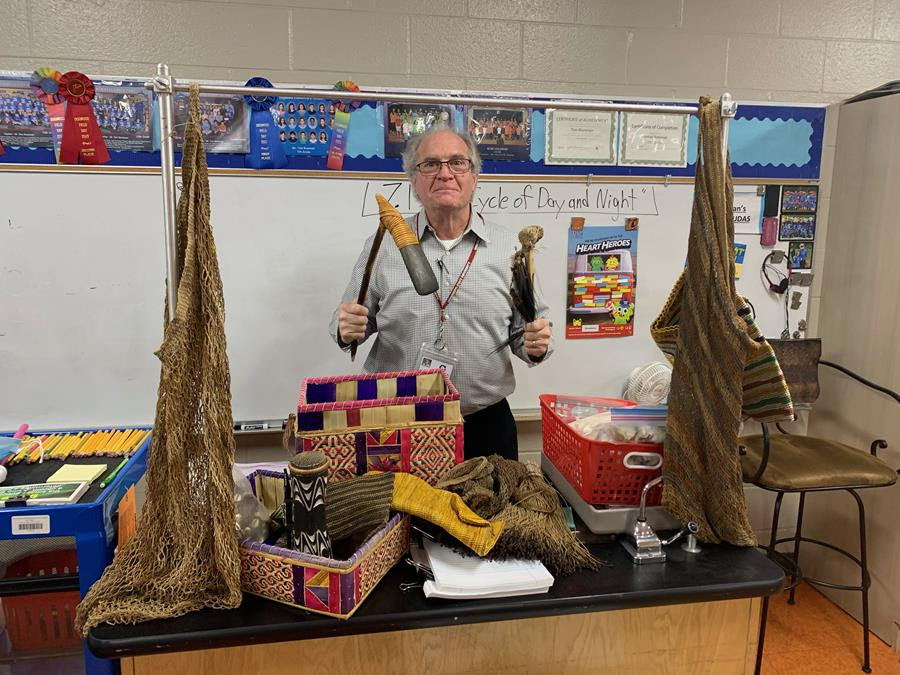 Dogwood's fourth graders got a unique opportunity to peek into history.   Thomas Bozeman grew up on the island of Irian Jaya where his parents were missionaries to a tribe of indigenous people.  He also teaches fourth grade at Dogwood.  During a special lesson Bozeman brought in several artifacts from his personal collection for the class to examine.  The class discussed how the creation and materials of these handmade tools took so much time and effort to make.   Mr. Bozeman said, " I love seeing students witness hands-on examples of our history lessons."  
Meet two award-winning teachers in GMSD: Laura Allen and Ashley Rotenberry
From The City of Germantown (Education Commission): The January Teacher of the Month was awarded to Mrs. Laura Allen, a first grade teacher at Dogwood Elementary School. Parents, her peers and even her very young students sing her praises for her engaging teaching methods and her commitment to student growth. She embodies a teacher who genuinely cares about her students and their families.
From the University of Memphis: Congratulations to Forest Hill Elementary's Ashley Rotenberry for being named a Mentor Teacher of the Month from the University of Memphis. Please see below for the wonderful words, Mrs. Rotenberry's teacher candidate, Kendra Brist, had to say about their professional relationship:
GMSD is actively recruiting substitute teachers--Please consider or share 
How do I submit my good news or events?
Do you want your class, group, or student achievement highlighted in the GMSD Connection?  Submit your information and a photograph through our Let's Talk System or respond to your Weekly Roundup email.
Your guide to family-friendly events for the month of February:
Saturday, January 29, HHS Girls Basketball vs. Northpoint @6PM

Tuesday, February 8, HHS Girls & Boys Basketball vs. Cordova @6PM & @7:30PM

Friday, February 11, HHS Girls & Boys Basketball vs. Southwind @6PM & @7:30PM

Wednesday, February 16, Germantown Board of Education Work Session @5PM

Monday, February 21, NO SCHOOL FOR STUDENTS, President's Day/District Learning Day

Tuesday, February 22, Germantown Board of Education Business Meeting @6Pm & GMSD Teacher of the Year Celebration
Looking for an archived GMSD Weekly Roundup?  Click on the date below to expand the newsletter!